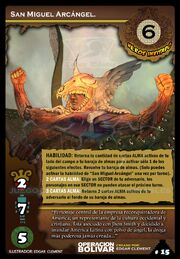 SAN MIGUEL ARCÁNGEL
HABILIDAD OFICIAL
Retorna la cantidad de cartas ALMA activas de tu lado del campo a tu baraja de almas para activar solo 1 de los siguientes efectos. Revuelve tu baraja de almas. (La habilidad de "San Miguel Arcángel" solo puede ser activada una vez por turno).
2 CARTAS DE ALMA: Elige un SECTOR de tu adversario, los personajes en ese SECTOR no pueden atacar el próximo turno.
3 CARTAS DE ALMA: Retorna 2 cartas ALMA activas de tu adversario al fondo de su baraja de almas.
Ad blocker interference detected!
Wikia is a free-to-use site that makes money from advertising. We have a modified experience for viewers using ad blockers

Wikia is not accessible if you've made further modifications. Remove the custom ad blocker rule(s) and the page will load as expected.