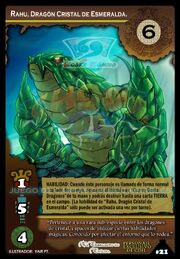 RAHU, DRAGÓN CRISTAL DE ESMERALDA
HABILIDAD OFICIAL
Cuanto este personaje es llamado de forma normal a tu lado del campo, descarta al Mictlán un "Cuarzo Gesta Dragones" de tu mano y podrás destruir hasta una carta TIERRA en el campo. (La habilidad de "Rahu, Dragón Cristal de Esmeralda" solo puede ser activada una vez por turno).
Ad blocker interference detected!
Wikia is a free-to-use site that makes money from advertising. We have a modified experience for viewers using ad blockers

Wikia is not accessible if you've made further modifications. Remove the custom ad blocker rule(s) and the page will load as expected.