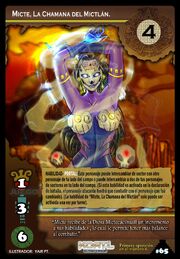 MICTE, LA CHAMANA DEL MICTLÁN
HABILIDAD OFICIAL
PORTAL:
Este personaje puede intercambiar de sector con otro personaje en tu lado del campo o puede intercambiar a dos de tus personajes de sectores de tu lado del campo. (Si esta habilidad es activada en la declaración de batalla, el personaje atacante tendrá que combatir con el personaje que fue cambiado).
(La habilidad de "Micte, La Chamana del Mictlan" solo puede ser activada una vez por turno).
Ad blocker interference detected!
Wikia is a free-to-use site that makes money from advertising. We have a modified experience for viewers using ad blockers

Wikia is not accessible if you've made further modifications. Remove the custom ad blocker rule(s) and the page will load as expected.