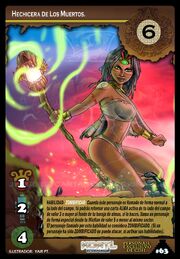 HECHICERA DE LOS MUERTOS
HABILIDAD OFICIAL
ZOMBIFICAR:
Cuanto este personaje es llamado de forma normal a tu lado del campo, tú podrás retornar una carta ALMA activa de tu lado del campo de valor 3 o mayor al fondo de tu baraja de almas, si lo haces, llama un personaje de forma especial desde tu Mictlan de valor 5 o menor al mismo sector. El personaje llamado por esta habilidad se considera ZOMBIFICADO.
(Si un personaje a sido ZOMBIFICADO no puede atacar, ni activar sus habilidades).
Ad blocker interference detected!
Wikia is a free-to-use site that makes money from advertising. We have a modified experience for viewers using ad blockers

Wikia is not accessible if you've made further modifications. Remove the custom ad blocker rule(s) and the page will load as expected.