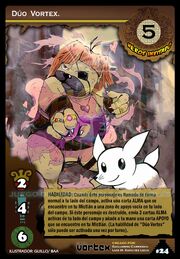 DUO VORTEX
HABILIDAD OFICIAL
Cuando este personaje es llamado de forma normal a tu lado del campo, activar una carta ALMA que se encuentre en tu Mictlán a una zona de apoyo vacía en tu lado del campo. Si este personaje es destruido, envía 2 cartas ALMA activas de tu lado del campo y añade a tu mano una carta APOYO que se encuentre en tu Mictlan. (La habilidad de "Dúo Vortex" solo puede ser activada una vez por turno).
Ad blocker interference detected!
Wikia is a free-to-use site that makes money from advertising. We have a modified experience for viewers using ad blockers

Wikia is not accessible if you've made further modifications. Remove the custom ad blocker rule(s) and the page will load as expected.