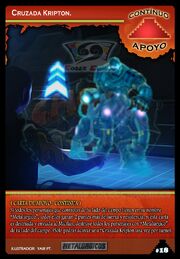 CRUZADA KRIPTON
EFECTO OFICIAL
Si todos los personajes que controlas de tu lado del campo tienen en su nombre "Metalúrgico", todos ellos ganan 2 puntos más en fuerza y resistencia, si esta carta es destruida y enviada al Mictlán, destruye todos los personajes con "Metalúrgico" de tu lado del campo. (Solo podrás activar una "Cruzada Kripton una vez por turno).
Ad blocker interference detected!
Wikia is a free-to-use site that makes money from advertising. We have a modified experience for viewers using ad blockers

Wikia is not accessible if you've made further modifications. Remove the custom ad blocker rule(s) and the page will load as expected.